If you've been reading this blog for a while, I bet you've seen me complaining about how difficult it is to find lingerie fabrics and supplies in Barcelona. And it's true that it's difficult, but it's not impossible!! So, today I'm going to tell you one of my secrets: the best places for buying lingerie supplies in my city!
This is an historic haberdashery, as it opened its doors for the first time in 1935. It seems small from the outside, but it's surprisingly big inside. Among other hundreds of things, you can buy here lace, elastic trims, rings and sliders for making straps, bra closures and underwires. The good thing about this place is that it's located in the city center, so it's really easy to find and it's well connected by public transport. The not so good thing is that it's expensive. I mean, REALLY expensive. The underwires are the only thing that is more or less reasonably priced.
This is a lingerie shop… with a secret! On the first floor you can find lingerie and loungewear made by some international brands, but if you go upstairs, through a little wooden staircase, you'll find a very different kind of shop. In a little room with almost every wall covered by hundreds of wooden drawers you can see and old man behind and old counter. And this man sells everything: elastic trims, strap elastic, metal rings and sliders, different types of closures, uderwires, cut and sew foam, wire casing,…. You name it. The prices are unbelievable cheap, but it has one downside: the colours are very limited (everything has to be white, ivory, beige or black) and the elastic trims are somewhat plain. But, still, it's my favourite place for buying lingerie supplies! I really love the 'vintage' look of the place, and the old man who still uses the old Spanish word for "bra" ("sostén", while nowadays every Spanish woman younger than 90 uses the word "sujetador"). So adorable.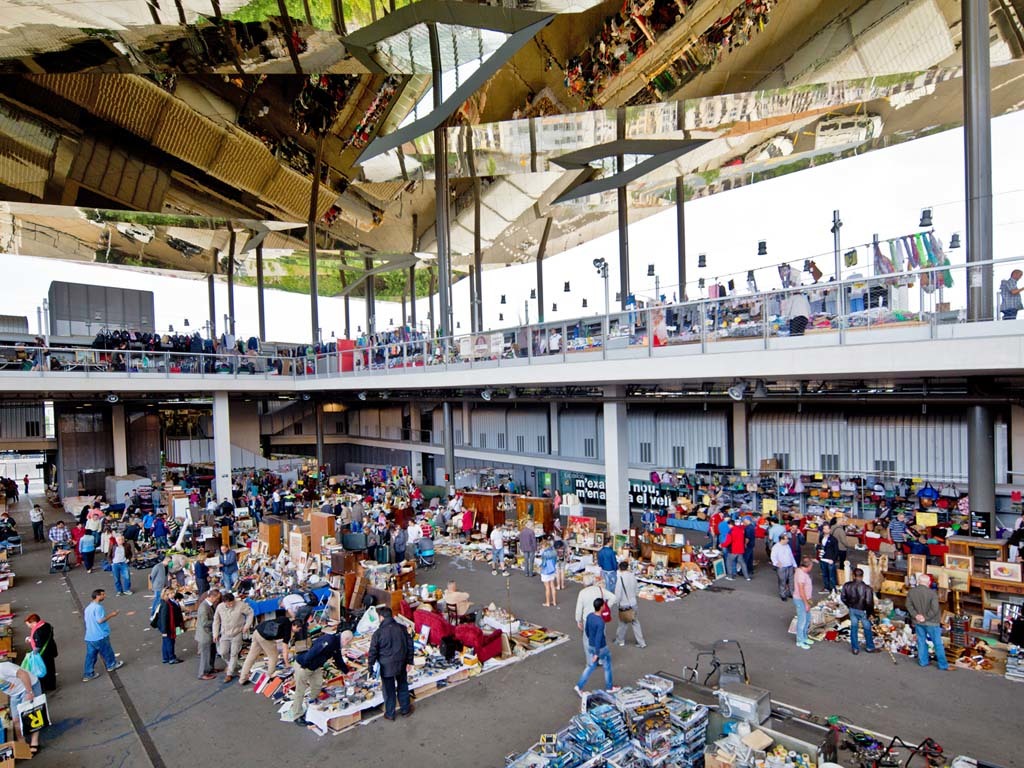 Mercado de Els Encants / Els Encants Market
Last but not least, there is Els Encants Market. This is a huge open air market that opens 4 days a week, and it's full of… everything. There are different stands and shops that sell clothes (both vintage and new), furniture, electronic supplies, lots of used stuff, books, art supplies, etc. And, between all this chaos, there are also some places that sell fabrics and notions! I don't usually buy fabric there, because although it's cheap, sometimes the quality isn't right. But I've discovered several shops that sell quality lace and elastic trims, so I love to go there and get lost! The prices tend to be cheap, but they vary between the different shops and stands, so it's a good thing to take a look first and compare prices before buying (I tend to go always to the same two or three spots, as I know that they have the cheapest prices and better quality items). The good thing about Els Encants is that you can find a huge variety of laces and trims (e.g. elastic trim in every colour of the rainbow), but the stock changes very quickly: if you find something that you like and plan to use it more than once, buy tons of it! You may never find it again…
That's the end of our trip! I hope you've enjoyed it 🙂 But, if you aren't in Barcelona or you're curious about where to buy lingerie supplies online, I can recommend you this list and this one, where you'll find several online resources. I haven't tried any online shop yet, but if you know them (or any other lingerie supplies shop) I'll love to hear from you on the comments!