It's been almost a whole month since I published the first post of this series, and the truth is that I was looking forward to writing the second one! So, without further ado, I let you enjoy this second list of the most bizarre vintage lingerie ads!
First we have this little jewel by Maidenform, the ones who created one of my favourites ads of all times. If going across the Alps on a chairlift wearing only a pair of shorts and a bra, and accompanied by your dog is your one and only dream, Maidenform is your brand! And I highly encourage you to visit this page, where you'll find more Maidenform ads!
This isn't merely an underwear ad: the text, very poetic, encourages every woman to help the country during the Second World War. And, is there a better way to do it than throwing coal while you're dressed only with your girdle and some pretty high heels?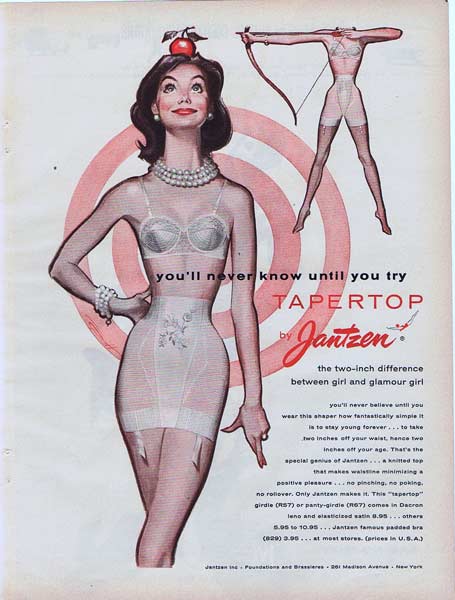 This is also a favourite: a beheaded girl is about to shoot this William Tell alter ego, who is well protected by her Jatzen girdle… or maybe not: have you seen the way she crosses her fingers?
Just because some days we are so proud of our stockings that we have to show them in front of a mouse with a hat.
Or you can also ask a bird about your girdle. That's what everyone should do.
Another Maidenform creation: the doctor who walks around the hospital in her underwear, while the other doctors try to be cool about it. Maybe they are used to that kind of things…
And, last but not least, Mr. Pretty Legs. They deserve to feel handsome, too! 😉